Manila Street Food


Manila Street Food is largely influenced by Spanish Cuisine, and the Philippines has 3 distinct sub-regions when it comes to food. North Philippines is noted for its use of seafood, rice cakes and puddings, Central Philippines is noted for its use of chili and skill of roasting meats, while South Philippines is noted for flavouring food with spices. As the central hub of the country, much of this variety of local dishes, along with Malay, Chinese and Latin American Cuisine can be found in Manila.

Food in Manila can be found in pushcarts along the streets, in cafes, mid-range eateries or fine restaurants. Fast food is extremely popular here, especially among office workers, and nearly half of all mid-range eateries in Manila are fast food outlets. Street food sold from pushcarts are often finger food, pastries or desserts which can be consumed on the go. Common ingredients used in the Philippines include pork, chicken, fish, ox, mango, pineapple, pandan leaves, rice, peanuts, plantains, yam / taro, tapioca and coconut.

Breakfast in Manila is rather heavy, with rice or porridge and many accompanying side dishes. Snacking is common, and often involves pastries, cakes or desserts. Food in Manila tends to be more highly seasoned with salt as compared to other cuisines, and the resulting high blood pressure is a very common medical issue here.


.....


Adobo is a type of cooking method used in the Philippines, which involves stewing / braising meats such as pork, chicken or a combination of both in a marinade / sauce made with pepper, garlic, vinegar, soy sauce and bay leaves. The resulting dish of Adobo Chicken And Pork is served with rice and a pickled salad, and is considered a national dish of the Philippines.


Adobo Chicken And Pork 01
Adobo Chicken And Pork 02
Adobo Chicken And Pork 03
Adobo Chicken And Pork 04
Due to the popularity of Adobo, the flavour has been adapted for commercial use with other ingredients, although salt is used to replace soy sauce. The Adobo flavouring is typically used in snacks, such as Adobo Cracker Peanuts.
Adobo Cracker Peanuts 01
Adobo Cracker Peanuts 02
Adobo Cracker Peanuts 03
Atchara is a popular condiment in Manila, made with julienned unripe papaya, carrot, ginger, bell pepper / capsicum, onion and garlic. These vegetables are pickled in a mixture of vinegar, salt, sugar, pepper and chili, then garnished with raisins or pineapple chunks. Atchara is served as a side dish with barbecue dishes such as Adobo, to cut through the savoury saltiness of the meat.
Atchara 01
Atchara 02
The San Miguel Beer is produced by the San Miguel Brewery, the largest beer producer in the Philippines. The most readily available of its range of beers in Manila is the San Miguel Light and the San Miguel Pale Pilsen.
Beer San Miguel Light
Beer San Miguel Pale Pilsen
A type of Swiss Roll unique to the Philippines, the name of this dessert pastry, Brazo De Mercedes, means 'Mercies Arm'. The light and heavenly texture of the Brazo De Mercedes is made from whipped egg white meringue, egg yolk custard, vanilla, sugar, cream of tartar and condensed milk.
Brazo De Mercedes 01
Brazo De Mercedes 02
Brazo De Mercedes 03
Brazo De Mercedes 04
Examples of Candy sold in Manila include the Choc Nut, with its peanut and milk chocolate taste and soft texture, and the Ricoa Flat Tops which has a soft, milky, melt in the mouth texture and rich chocolate taste.
Candy Choc Nut And Ricoa Flat Tops
Adapted from Spanish cuisine, the Filipino dish of Cocido consist of a thin but rich and intensly flavoured soup / broth, made with beef shanks, beef marrow, beef brisket, chicken breast, salted pork belly, bacon, ham, spicy pork sausage chorizo, onions, carrots, celery, cabbage, tomatoes, water, salt, vinegar, garlic, ginger, potatoes and vegetable oil. Considered a 1 dish meal, Cocido is served with rice and an eggplant, plantain, garlic and vinegar sauce called Berenjena.
Cocido
Similar to a curry puff, the Filipino Empanada consists of 1 type of ground meat, usually beef, chicken or pork, mixed with potatoes, onions, garlic chives and sometimes raisins, then stuffed into a thick pastry shell made from wheat. In Manila, the baked Empanada is more common than the fried version. It has a somewhat sweet and savoury taste, and is very filling, although I miss the spicy kick which you'll get from a curry puff.
Empanada 01
Empanada 02
Empanada 03
Adapted from Spanish cuisine, the Ensaymada is a common pastry throughout the Philippines. Consisting of a brioche bread / muffin shape pastry made with eggs and butter, the Ensaymada is then topped with grated cheese and sugar. Some variations of Ensaymada in Manila also include cream, either as a topping, or as a stuffing. The extreme popularity of this Filipino pastry means it can be served throughout the day, for breakfast, as a dessert, or as a snack. If consumed as a dessert, Ensaymada can be served with fresh fruits, hot chocolate, or ice cream.
Ensaymada 01
Ensaymada 02
Ensaymada 03
Ensaymada 04
Despite its plain and ordinary looks, the fragrant Garlic Fried Rice / Sinangag has a strong and pleasant aroma that hits you the minute it's served. A popular accompaniment during breakfast or dinner, Garlic Fried Rice / Sinangag is a simple dish to prepare, made by frying white rice together with garlic cloves, salt and vegetable oil.
Garlic Fried Rice / Sinangag 01
Garlic Fried Rice / Sinangag 02
Garlic Fried Rice / Sinangag 03
Considered the national dessert of the Philippines, Halo-Halo consists of a mixture of shaved ice, kidney beans, chickpeas, sugar palm fruit, plantains, sugar syrup, tapioca, nata de coco, sweet potato, jackfruit, gulaman seaweed jelly, macapuno coconut flesh, pinipig crushed young rice and cheese, topped with sugar, leche flan creme caramel custard, purple yam / taro, vanilla ice cream, coconut milk and evaporated milk. This cold dessert of Halo-Halo is so closely identified with the Philippines, that it is often referenced in popular culture.
Halo-Halo 01
Halo-Halo 02
Despite the almost similar name, Halo-Halo Ginataang is a hot dessert, consisting of sweet potato, yam / taro root, plantains, sago tapioca pearls, corn, water and sugar cooked in coconut milk. Halo-Halo Ginataang has a thick sticky texture, with a sweet taste, and is quite satisfying after a meal. If glutinous rice balls are added, it becomes another dish called Bilo-Bilo.
Halo-Halo Ginataang 01
Halo-Halo Ginataang 02
Kare-Kare is a traditional Filipino stew that consists of a base of savoury peanut sauce. While the vegetables used in Kare-Kare are almost always the same, consisting of baby bok choy / chinese cabbage / xiao bai cai, eggplant, string beans and young banana flower bud, the main ingredient of meat can vary from either beef brisket, oxtail, pork belly, or beef tripe. The peanut sauce for Kare-Kare is made with ground roasted peanuts, peanut butter, water, salt, pepper, onions, garlic, toasted ground glutinous rice and annatto seeds. Kare-Kare is often consumed as part of festival celebrations in the Philippines.
Kare-Kare Ox Tail 01
Kare-Kare Ox Tail 02
Kare-Kare Pork Belly 01
Kare-Kare Pork Belly 02
Lechon Manok is basically Filipino roast chicken, and is a popular street food in Manila. The chicken is rubbed with a mixture of salt, chopped onions, garlic, brown sugar, pepper, calamansi juice, fish sauce and then left to marinade. After 4 hours, it's stuffed with bay leaves and lemongrass, then roasted with regular basting of the marinade to produce Lechon Manok.
Lechon Manok 01
Lechon Manok 02
Liang is braised yam / taro leaves, and Tinapa is smoked fish used as a garnish for the dish Liang With Tinapa, along with salt and chili.
Liang With Tinapa
Mango are a common fruit in the Philippines, and readily available in Manila. It is often eaten alongside meals as a dessert, or incorporated into various dishes.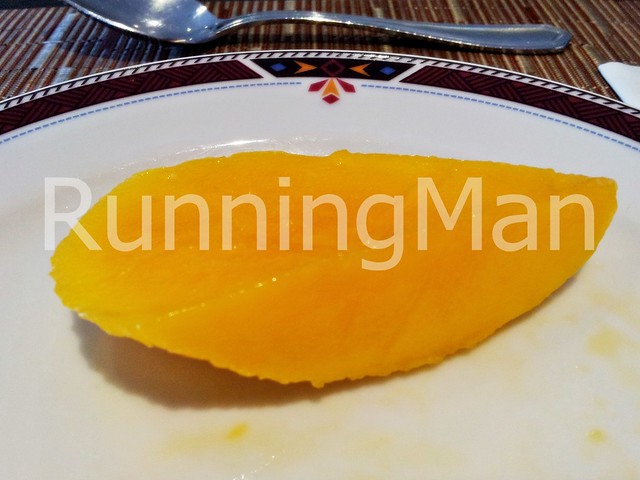 Mango (Philippines)
The Filipino take on the Mexican Salsa uses mangoes to replace tomatoes, resulting in a much sweeter condiment.
Mango Salsa 01
Mango Salsa 02
Pandan is grown throughout the Philippines, and it's ready availability means it's used in many desserts and pastries. One unique combination found in Manila is the Pandan And Mint Cookie, which is a soft cookie infused with the fragrant pandan flavour and the fresh burst of mint.
Pandan And Mint Cookie
Unlike the typical pandan infused sponge cakes in Southeast Asia, the Pandan Cake in Manila consists of vanilla sponge cake between layers of pandan cream. This results in this version of the Pandan Cake being light and airy in texture, yet heavy on the pandan flavour.
Pandan Cake 01
Pandan Cake 02
Pandan Cake 03
Nose to tail eating is prevalent in Filipino culture, and a fine example is the Spanish named, but local Filipino dish Pastel De Lengua, which is basically ox / beef tongue in a cream sauce. The ox / beef tongue is boiled till soft, along with hardy vegetables like onions, carrots and potatoes. Pastel De Lengua can either be served as a savoury main dish, or baked as a pie.
Pastel De Lengua 01
Pastel De Lengua 02
Pineapple is another fruit that is readily available in the Philippines, and used in many different dishes as well.
Pineapple (Philippines)
An American classic adapted into Filipino cuisine, the Pork Chop With Apple And Raisin consists of sliced pork loin and pork belly in a sauce / compote of caramalised apple slices, apple juice, sugar, butter and pepper, garnished with raisins.
Pork Chop With Apple And Raisin 01
Pork Chop With Apple And Raisin 02
Pork Pata is basically deep fried pork knuckle. The difference between the Filipino version and the German version is that Pork Pata is typically cooked slighlty longer till the skin is extra crisp and the meat is somewhat drier, and served along with a savoury dipping sauce made from chili, soy sauce and vinegar. Some methods call for Pork Pata to be cooked with soda pop (Sprite / 7-Up).
Pork Pata 01
Pork Pata 02
Sansrival, or Sans Rival, is a rich dessert pastry that has no rival. Sorry, I couldn't resist. Bad puns aside, Sansrival is a french inspired pastry created by Filipino people studying abroad, and introduced back into the Philippines. Sansrival consists of french buttercream made with butter, egg yolks, sugar and water, sandwiched between multiple layers of meringue made from egg whites, sugar, cream of tartar and toasted chopped cashew nuts. It is a common dessert pastry in Manila.
Sansrival 01
Sansrival 02
Sansrival 03
Sinuteng Baby Squid are similar to a Spanish tapas, and is made with sauteed baby squid, bay leaves, sundried chili and olive oil. Sinuteng Baby Squid is eaten as an appetizer.
Sinuteng Baby Squid
Tapa refers to Filipino dried meat, often Beef, Mutton or Venision cured with salt. Tapa Beef is the most common, served fried or grilled, and is typically eaten during breakfast. If Tapa Beef is served with garlic fried rice, fried egg, and a pickled salad, the resulting dish is called 'Tapsilog', which is the Filipino portmanteau of Tapa (Cured Beef), Sinangag (Garlic Fried Rice), and Itlog (Fried Egg).
Tapa Beef 01
Tapa Beef 02
Tocino refers to bacon in Spanish cuisine. In Manila, Tocino is localised by curing the pork belly in a mixture of water, salt, sugar, annatto seeds, and aniseed, then boiled or fried. Sometimes, pineapple juice is added. Tocino has a slightly sweet and tart flavour, and is less savoury and salty than regular bacon.
Tocino Pork 01
Tocino Pork 02
Panga Sa Bawang is an uncommon dish of fried tuna jaw with garlic shavings and chili.
Tuna Fish Panga Sa Bawang
Yam / Taro is a common ingredient in many desserts in the Philippines. In Manila, bakers have combined this local ingredient with international pastry making techniques to produce the Ube Mousse. This rich and soft dessert pastry features finely mashed yam / taro, almost like a puree, along with heavy cream, sugar, butter and milk. Ube Mousse may be served along with fresh fruits or ice cream.
Ube Mousse 01
Ube Mousse 02
Ube Mousse 03
The Zucchini Marinara is a western inspired dish, consisting of grilled Zucchini in a herbs, onions and tomatoes Marinara sauce.
Zucchini Marinara 01
Zucchini Marinara 02
.....
Dampa is a Filipino word which means 'Hut', and Paluto is a Filipino word which means 'to get someone to cook for you'. But when these 2 words are used together in the Philippines, it refers to a row of shops / wet market selling fresh seafood and meat, along with several restaurants nearby where you can take your purchase to be prepared and cooked. A good Dampa Paluto Seafood will be located close to the sea, and features a few shops selling all manner of fresh seafood and meats, along with several restaurants who have a chef skilled in cleaning and preparing any seafood or meat you bring them, and able to cook in many different styles, including Filipino, Chinese, Thai, Malay or Rotisserie.
Be prepared for 2 bills, the first charge is for purchasing the seafood or meat (the money goes to the wet market stall owner), the second charge is for the cleaning, cooking and dining experience (the money goes to the restaurant owner). The restaurant will provide the dining area, ambience, utensils, service, drinks and condiments needed for a meal. Because the wet market stalls and restaurants are operated by different owners, be aware that prices listed on the restaurant menu normally don't include the cost of purchasing the fresh seafood, as buying it yourself is part of the experience. However, you can ask the restaurant staff to do the shopping for you, in which case, the additional cost of buying the seafood will simply be included in your final bill.
Dampa Paluto Seafood 01
Dampa Paluto Seafood 02
Dampa Paluto Seafood 03
Dampa Paluto Seafood 04
Dampa Paluto Seafood 05 Crispy Kang Kong
Dampa Paluto Seafood 06 Grilled Squid
Dampa Paluto Seafood 07 Grilled Squid
Dampa Paluto Seafood 08 Grilled Squid
Dampa Paluto Seafood 09 Tempura Prawn In Black Pepper
Dampa Paluto Seafood 10 Fried Fish
Dampa Paluto Seafood 11 Steamed Fish
.....