Creamier
Creamier
128 Toa Payoh Lorong 1 #01-835

5A Lock Road
http://creamier.com.sg/
Waffles With Sea Salt Gula Melaka Ice Cream (SGD $9)
Artisan, Hand Crafted Ice Cream & Waffles
(Ratings: On a scale of 1 to 10, with 1 = Worst and 10 = Best)
Overall: 7
Ambience & Setting: 6
Food & Beverage: 8
Service: 7
Value for Money: 8
Spent about SGD $9 per person.
.....
Founded in November 2011, Creamier quickly drew crowds for their artisanal hand crafted, local inspired ice cream flavours, tasty Belgian waffles, and strong coffee. Celebrating the 5th anniversary of Creamier on 19th November 2016, founders Khoh Wan Chin and Audrey Wang have now created over 55 different flavours of ice cream, becoming almost a household name in the Toa Payoh and Gillman Barracks areas.
Ambience at Creamier is casual, modern, and relaxed. Both outlets boast a small, cramped floor space, neatly lined with sturdy wooden furniture. Warmly lit and surrounded by greenery, its little wonder that both outlets make a perfect place for relaxing days, just chilling and chatting. The large ice cream display draws the eye with its myriad of colourful ice cream flavours. Choose to sit in the cool, air-conditioned indoors, or the breezy al-fresco outdoors. Plus point for the original Toa Payoh outlet, the decor here pays homage to the history of the place, through striking artwork which adorns its walls.
Service at Creamier is partial self-service, with ordering and payment over the counter, though staff will serve orders to your table. Expect a standard waiting time of at least 15 minutes, as each order is prepared from scratch. Staff are friendly, offering greetings but not goodbyes, and are knowledgeable on the menu. Chirpy and helpful, they'll let you try various flavours, and offer recommendations. I also note staff are efficient at clearing away empty / dirty tables when diners leave.
Food at Creamier is all about desserts and drinks, they do not have any main courses or snacks at all. The focus is naturally their hand crafted ice cream flavours, each made with quality ingredients imported from Italy and France, along with their signature Belgian style waffles. The coffee is pretty good too. There is a large variety of over 55 different ice cream flavours, of which about 20 are available daily. Portions are sized for individuals. Prices are comparable to other dessert / ice cream parlours, budget about SGD $9 per person here.
.....
Creamier Signage
Creamier Facade
Counter
Menu
Ice Cream Display
Loved the Iced White (SGD $5.50), with its robust flavour of espresso, the strength of the roast coffee beans really come though.
Iced White (SGD $5.50)
Inspired by local Singaporean flavours, the Kaya Toast Ice Cream (SGD $3.50) is a creamy, floral earthy sweet scoop of luscious delight. The ice cream is made with organic pandan / screwpine leaf, kaya / coconut egg jam, and studded with crisp bits of toasted white bread. Shiok!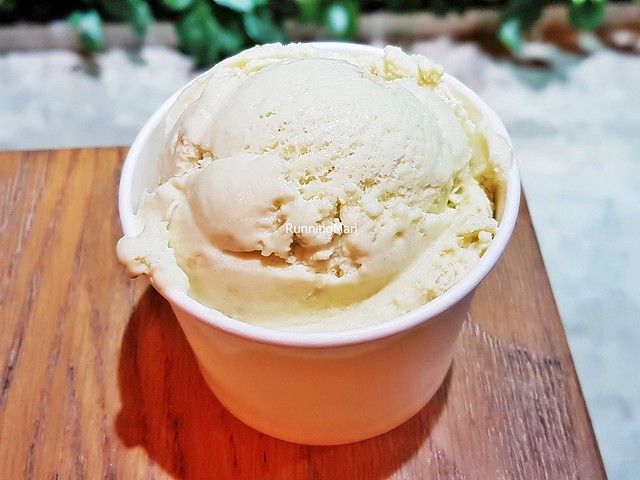 Kaya Toast Ice Cream (SGD $3.50)
Kaya Toast Ice Cream
The house signature dessert of Waffles With Sea Salt Gula Melaka Ice Cream (SGD $9) features a duo of excellent, freshly baked waffles. These Belgian waffles style are slightly crisp on the outside, soft and fluffy on the inside, with a light, moist, airy texture. Good flavour of buttermilk and grains on the palate. The ice cream is made with pure palm sugar and hand harvested sea salt from England, resulting in a bold salty sweet flavour. Well balanced, creamy, and fragrant. A drizzle of maple syrup and chocolate sauce completes this delicious dessert. Highly recommended!
Waffles With Sea Salt Gula Melaka Ice Cream (SGD $9)
Waffles With Sea Salt Gula Melaka Ice Cream
The seasonal special of Torched Pineapple With Sansho Pepper Sorbet (SGD $4.50) is excellent. This ice cream sorbet is made with grilled Sarawak pineapples, cayenne pepper, and Japanese pepper / zanthoxylum piperitum / sansho pepper. Rich and creamy, the bold fruity floral sweet flavour of caramelised pineapple is contrasted by a smoky, sharp spicy pepper taste, and a short burn. Not too overwhelming, the spice teases the palate, but is still comfortable and pleasing. Good!
Torched Pineapple With Sansho Pepper Sorbet (SGD $4.50)
Torched Pineapple With Sansho Pepper Sorbet
Their ice cream is of really good quality, and being hardy, takes rather long to melt. So with the Affogato (SGD $7.20) here, you get a scoop of rich, creamy sweet, delicious Madagascar Vanilla ice cream in a cup of piping hot espresso coffee, robust and deep with the flavour of roasted coffee beans. But because the ice cream is hardy, it cools off the coffee faster than it melts. So instead of a thick, creamy beverage, you actually still get both components separately. Still tasty, though it ends up being more like a dessert instead.
Affogato (SGD $7.20)
Affogato
Affogato
.....
.....