Roosevelt's Diner & Bar
Roosevelt's Diner & Bar
331 New Bridge Road
#01-02 Dorsett Residences
http://roosevelts.com.sg/
https://www.facebook.com/pages/Roosevelts-DinerBar/245129005658386
Quirky All Day Breakfast Joint By Day, Hip Bar By Night
(Ratings: On a scale of 1 to 10, with 1 = Worst and 10 = Best)
Overall: 8
Ambience & Setting: 8
Food & Beverage: 7
Service: 8
Value for Money: 8
Spent about SGD $24 per person.
.....
Located in Dorsett Residences just next to Outram Park MRT Station Exit H, the less than 1 month old Roosevelt's Diner & Bar is already developing a loyal following, especially amongst the residents of nearby Duxton and Outram. Offering gourmet fare at wallet-friendly prices admist a quirky, modern decor, Roosevelt's Diner & Bar looks sets to do well.
Ambience at Roosevelt's Diner & Bar is best described as modern with elements of industrial chic. Star highlights include th 'Engine Table', a glass panel table supported by a race car engine, a vintage orange vespa, and expressive photo canvasas adorning the walls. Furniture is functional, but not all are comfortable. Lighting is a mix of natural sunlight and in-house lights on the high ceiling, with several lightbulbs doubling as decor. Roosevelt's Diner & Bar also offers magazines for browsing.
Service at Roosevelt's Diner & Bar makes an effort to impress. Being new, I'm surprised that service here is efficient, and staff are friendly and quite knowledgable on the menu. Food is prepared relatively quickly as well. I also like that staff sincerely ask for feedback on the dining experience, as well as make recommendations for you.
Roosevelt's Diner & Bar serves artisinal all day breakfast / brunch, along with gourmet coffee. At night, they bring out the extensive wine / beer menu, and serve restaurant quality fare. I love the food here so far, haven't had any bad experiences yet! It also helps that prices are affordable, comparable to other cafes.
.....
Decor is part of their strong points, and observing all the various elements is a treat in itself.
Roosevelt's Diner & Bar Counter
Roosevelt's Diner & Bar Furniture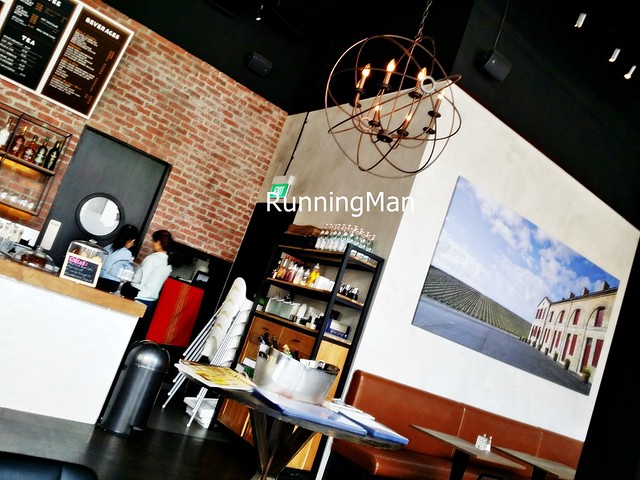 Roosevelt's Diner & Bar Magazines And Paintings
Engine Table 01
Engine Table 02
Vespa
The Mocha was rather good, nice well rounded flavour and relatively strong body. The Hot Chocolate was rich but not thick, and I liked the touch of mini marshmallows, some of which I lost while dunking... Loved the rich and thick Salted Caramel Milkshake, quite a unique flavour, and a nice balance of salty and sweet.
Mocha
Hot Chocolate
Salted Caramel Milkshake
The Spanish Beer Estrella Galicia 1906 Red Vintage 'La Colorada' was only invented less than 2 years ago, but has already won widespread acclaim and rave reviews, going as far to win the gold medal in the World Beer Awards 2013, and the silver medal in the International Beer Challenge. And no wonder, for its well balanced, rounded and intense flavour has hints of roasted malt and caramel, with a dark amber colour, and a creamy, smooth, compact texture. At once wild, complex, yet familiar, the Estrella Galicia 1906 Red Vintage 'La Colorada' is one beer you definitely should sample!
Beer Estrella Galicia 1906 Red Vintage La Colorada
The Italian Scanavino Moscato d'Asti is a sweet and refreshing dessert wine, with hints of fresh lychee, peach, apricot, fresh grapes and honey. With an elegant floral aroma and a light straw colour with hints of gold and bubbles, the Scanavino Moscato d'Asti is suitable for all occasions.
Scanavino Moscato d'Asti 01
Scanavino Moscato d'Asti 02
Smooth, creamy eggs in the Eggs Royale With Scrambled Eggs (SGD $17), a special request we ordered. The English muffin pairs well with the smoked ham and scrambled eggs.
Eggs Royale With Scrambled Eggs
The signature Eggs Roosevelt (SGD $17) features a bed of turmeric spiced smashed potatoes and spicy chorizo sausage, topped with 2 softly poached eggs. The yolk when cut just runs down and coats the potatoes and sausages, making it visually messy but so good to eat. The turmeric spice on the potatoes is just right without being too overpowering.
Eggs Roosevelt 01
Eggs Roosevelt 02
Notwithstanding the ginormous portion that would make even Theodore 'Teddy' Roosevelt proud, the Teddy's Big Breakfast (SGD $23) features the classic 8 different components, all of which are done to perfection. The sausages are perfecyl grilled and meaty with a slightly snapy casing, the cherry tomatoes and mushrooms are sauteed and seasoned well, the salad is fresh and well dressed with balsamic vinegarette, the scrambled eggs are creamy, smooth, and seasoned with herbs, the bacon is crisp, and the bread is fresh and crisp. Truly excellent!
Teddy's Big Breakfast 01
Teddy's Big Breakfast 02
When I order pork ribs from an American styled diner, I expect soft, tender meat that comes clean off the bone easily. And the BBQ Baby Back Ribs (SGD $22 for half slab, $28 for full slab) here didin't disappoint! Fragrant and tender, the meat just falls off the bone. The barbecue sauce is slightly sweeter and less tangy than regular barbecue sauce though, making the overall flavour slightly less savoury. Also loved the freshness of the garden salad and corn salad sides, which had nice dressings.
BBQ Baby Back Ribs 01
BBQ Baby Back Ribs 02
Staff tell me that the Southern Fried Chicken has undergone several rounds of tweaking to the recipe, due to poor feedback at the start. The current version of Southern Fried Chicken (SGD $18) I sampled has crunchy, well spiced flavourful skin, and moist meat within. The meat is not juicy, but not dry either. I was told that the accompanying curry sauce is made from 8 different spices, and while tasty, I thought the salt content was a little high.
Southern Fried Chicken 01
Southern Fried Chicken 02
The signature House Triple Mash (SGD $7) is more accurately described as 'mixed', rather than 'mashed' because it's not. Still, the combination of firm potatoes, soft sweet potatoes, and sweet pumpkin makes this a winner. The huge portion means it's better for sharing, especially if you get it to accompany a main dish rather than on its own.
House Triple Mash
Reserve a table now @ Roosevelt's Diner & Bar
.....